如果单看它的外表, 应该很难猜到是什么口味的吧。 这个食谱也是看中很久了, 只是一直在怀疑它的味道。 马铃薯属于淀粉, 跟面粉类难道真的会擦出火花吗? 所以食谱好像放了一年, 到现在才敢做。
食谱 (取自孟老师100道小蛋糕)
马铃薯 (去皮后) 120g
盐 1/2tsp
黑胡椒 1tsp
细糖 20g
全蛋 1个
沙拉油 50g
牛奶 40g
低筋面粉 75g
泡打粉 1/2tsp
小苏打粉 1/8tsp
切达起司 1片
份量:5-6个小马芬
马铃薯切小块蒸熟后, 用叉子压成泥, 加入盐和胡椒粉, 拌匀备用。
细糖加入全蛋和沙拉油, 用打蛋器搅拌均匀。
加入牛奶, 接着加入薯泥, 用打蛋器搅拌成均匀的液体。
低筋面粉, 泡打粉和苏打粉过筛, 再加入做法3的液体。
用橡皮刮刀轻轻搅拌, 记得不要拌太久, 稍微混合就可以了。
用手将切达起司撕成小块, 加入做法4的面糊中, 轻轻拌匀。
把面糊倒入烤杯。
放入预热180'C的烤箱, 烤大概20-25分钟。
Mashed Potato Cheese Muffin
(Adapted from 孟老师100道小蛋糕)
Potatoes, skin peeled 120g
Salt 1/2tsp
Black pepper 1tsp
Castor sugar 20g
Egg 1个
Salad Oil 50g
Milk 40g
Low-protein flour 75g
Baking powder 1/2tsp
Baking soda 1/8tsp
Cheddar cheese 1slice
Yields 5-6 small muffins
Cook the potato cubes until soft, mash them with a fork and add in salt and black pepper, mix well.
Lightly whisk together egg, salad oil and castor sugar.
Add in milk and follow by the mash potatoes, whisk till homogeneous. 加
Sieve in the low-protein flour, baking powder and baking soda.
Lightly mix them together till combine.
Tear the cheddar cheese into small pieces and add into the mixture. A
Pour the batter into muffin cup.
Bake in preheated oven at 180'C for 20-25 minutes.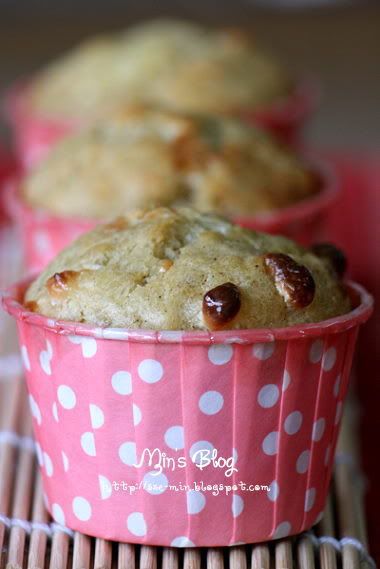 这个马芬在烤的时候真的好香, 就像烤薯条的味道。口感呢其实有点惊喜, 薯泥让整个马芬柔软很多, 真的很搭。 而且我放了很多胡椒粉, 所以会很入味, 吃起来有点像吃薯条的感觉。上头有点焦了的地方是起司来的, 加了它真的加分不少。
就如孟老师所说的, 淡而无味的马铃薯, 籍由黑胡椒和起司的调味, 摇身一变成为一道开胃的点心。我妹对这个马芬赞不绝口, 我自己也喜欢。 不过分量太少了, 吃不够, 下次要做多一些了。